Contemporary.Many different materials and styles are available when choosing a garage door replacement. Your garage door selection affects your property's overall look and feel. You also want to consider the cost, durability, and energy efficiency of your garage door replacement.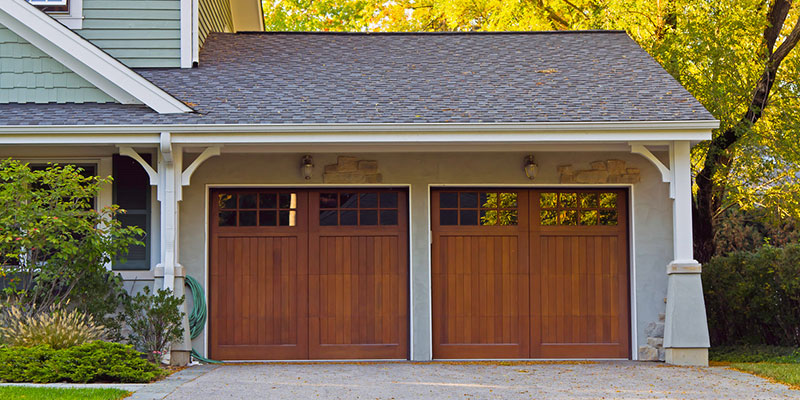 We developed this guide to help you make an informed decision about your next garage door:
Garage Door Materials
Wood. A popular choice, it offers a natural look that can enhance the appearance of any home. You can customize the color and finish of wooden doors. However, wood requires more maintenance than other materials in this guide. It can rot and warp if it is not maintained.
Steel. Durable and low maintenance, this material is a solid choice for garage doors. Steel doors are available in various finishes from plain to textured. They resist dents and scratches too. Steel garage doors come in a wide range of prices, meaning there are cost-effective options available.
Aluminum. Lightweight, durable, and resistant to rust and corrosion, aluminum is also a popular option for garage door replacement. Aluminum doors come in various finishes to match your home's style.
Styles of Garage Doors
Traditional. These garage doors are classic and timeless, and they feature raised panels and simple lines. Traditional styles come in wood, steel, and aluminum and are perfect for homes with a traditional exterior.
Carriage House. If you want a garage door replacement that's a nod to the past, these doors mimic the look of old-style carriage houses and feature decorative hardware, such as hinges and handles. They are available in wood and steel.
Contemporary. Contemporary garage doors have clean lines and modern designs for a minimal look. They are typically constructed from aluminum, steel, and glass and can be customized to your specific design needs.
Please schedule a consultation or visit our Statesville, North Carolina, showroom for styles and garage door accessories. We are available daily to advise you about your residential garage door needs.