If you have an urgent need, don't hesitate to contact us for emergency garage door repair in Statesville.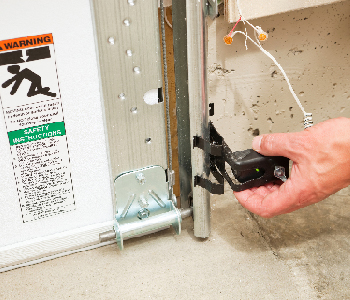 When you press the button for your garage door opener within the garage or the remote within your vehicle, you expect the door to immediately open or close. However, if something is wrong within the unit, you may find that no matter how many times you hit the button, nothing will happen. A damaged garage door is always frustrating, but it can cause more than just an inconvenience. In fact, garage door injuries can be very serious. This heavy door is held up via tension-mounted springs, so if the door slips off the track or one of the springs breaks, the door could fall on your or someone within your home. At a commercial location, you run the risk of serious injury or even death to your employees who work near the garage door.
Another issue that can arise with a broken door is theft. When the door is stuck open, anyone can walk into the garage and help themselves to your possessions. This is especially concerning at night, when you and your family have gone to bed.
It's obvious that a broken garage door is a serious matter, but many property owners aren't sure what to do in this case. Here in Statesville, North Carolina, you can rely on us at HLM Garage Doors & More, LLC for emergency garage door repair services. We provide emergency service 24 hours a day, 7 days a week because we understand that concerns of this nature can't wait for normal business hours.
If you have an urgent need, don't hesitate to contact us for emergency garage door repair. This service is one of our areas of expertise and we take pride in offering fast and affordable solutions for emergency garage door repair.

FAQs About Emergency Garage Door Repair
We're proud to offer 24/7 repairs because we know how stressful garage door emergencies can be. If you're lucky, you may not have had to call for emergency garage door repair before, but that also means you may not know what to expect. Here are our answers to a few frequently asked questions about emergency garage door repair.
How can I determine whether my garage door problem is an emergency?
Any time your garage door problem poses a safety issue, you should call for emergency garage door repair. For instance, if the garage door is stuck open and the spring is on the verge of breaking, the door could come crashing down at any moment. If you're expecting extreme weather and your garage door won't close, that may also be a reason to repair it as soon as possible instead of waiting until morning. If you're still not sure whether you have a true emergency, just call anyway to be safe.
How long will it take to complete my repairs?
Assuming you need garage door repair and not replacement, it shouldn't take long at all for our technicians to fix your garage door (although the exact amount of time depends on the specific issue at hand). Our team travels with the equipment and parts needed to handle practically any issue. And because we have considerable experience providing garage door repairs, we can finish the job in a timely manner.
Will it take long for you to arrive?
We're a locally owned and operated garage door company that is located close to the areas we serve, so we can get to your home or business quickly once you call us for emergency garage door repair.